Joyful
Simantini Chakraborty
United States, 2021, 7 min.
In English.
This film is family friendly.
We live in a hectic and chaotic world that relentlessly stresses our planet, humans and animals alike. joyful is a unique audio-visual exploration of finding joy in all the turmoil that surrounds us. joyful uses timelapses, hyperlapses, drone videos and astrophotography from around the world with dramatic sound design and music overlay to contrast our fast-paced contemporary lifestyle with simple moments of joy and calm that provides us respite in all the chaos.
Director's Statement
The world has changed inexorably in the recent past. People have become more anxious, more isolated and the world now is so full of hate, anger and chaos. In such a tumultuous time, I wanted to use my voice as a filmmaker, photographer, technologist and world traveler to share the message of hope and humanity with the world as films are a powerful, expressive, universal, and oftentimes magical medium of expression. joyful asks a simple yet profound question: "what is the speed of happiness?" I have manipulated time throughout the film: I have compressed time through timelapses and hyperlapses along with with dramatic sound design and music overlay to heighten the sense of relentless chaos, stress and tension caused by our modern lifestyles. And in contrast, I have stretched time through slow motion drone videos and astrophotography to bring calm and tranquility to remind us what really matters in the end.
Category: Experimental.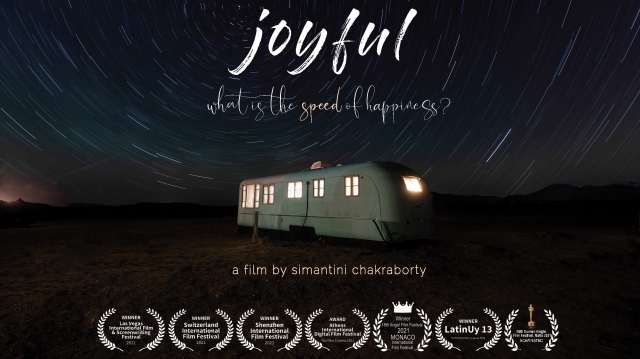 More in Experimental
Brian Staufenbiel
United States, 2021, 68 min.

Based on the tragic 1996 Mt. Everest disaster, the opera focuses on three climbers as they attempt the ill-fated summit. A new genre, the animated graphic... more ›

Julia Huffman
United States, 2021, 5 min.

The wolf reminds us of our ancient human-wolf family bond and makes a plea for our coexistence. Words from renowned National Geographic photographer Jim... more ›

Patrick Moser
United States, 2022, 30 min.

Love is an animal with other animals inside it... more ›