Mustang Moments
Jamie Williams
Cary Truelick
United States, 2020, 6 min.
In English.

Mustang Moments is a documentary about the Wild Horse Inmate Program at the Arizona State Prison. Inmates rebuild their lives by participating in a program training wild horses. Wild mustangs are teamed up with inmates to gentle and train, resulting in a win-win for the horse and the inmate. Inmates gain a positive work ethic, self-esteem and a trade that can be used upon release. After training, mustangs are adopted to loving homes. The recidivism rate for inmates who have participated in the wild horse program is less than 5%, far below the national rate of 50%-80%. Our mission is advocating for positive prison reform and finding homes for the wild horses.
Director's Statement
My passion is documentary filmmaking. I want to share stories to inspire people to live their best lives and make the world a better place.
Category: Documentary.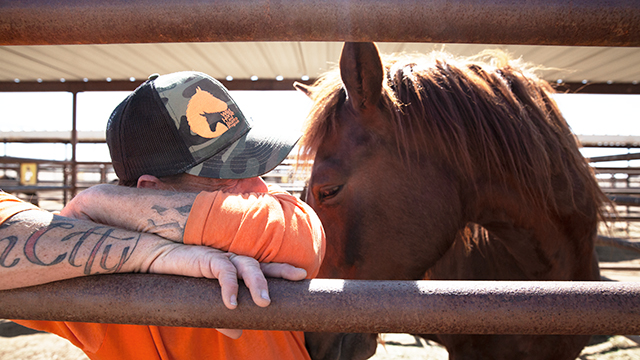 More in Documentary
Costa Boutsikaris
United States, 2021, 76 min.

Inhabitants follows five Native American Tribes across deserts, coastlines, forests, and prairies as they restore their traditional land management... more ›

Michael Arlen Davis
United States, 2021, 25 min.

Fine Art Photographer Charles Johnstone explores the vivid canals and ancient passageways of Venice, Italy in search of a new book project. A meditation on... more ›

Frederick Marx
United States, 2022, 80 min.

The story of transformation for a cohort of 12 Veterans who struggle with suicidal ideation as they do an ancient 12-day fasting ceremony in the Coulee desert... more ›