Guardian
Christy Lee Hughes
United States, 2021, 13 min.
In English.
Includes adult language.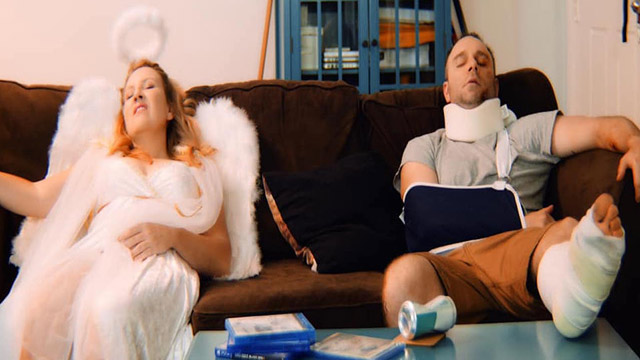 Gabby, a dysfunctional guardian angel struggling with addiction, fails miserably at her job of protecting her human assignment Derrik from the dangers of living on Earth. After yet another horrific accident that Gabby did nothing to prevent, Derrik summons the courage to fire her. Shocked, Gabby goes through stages of grief, revealing to Derrik exactly how she got to this low point in her existence, including her deepest and darkest secrets.
Director's Statement
During the pandemic, I have been reading plays in my living room. I loved the play, Guardian, written by Matthew McLachlan so much that I decided to option the rights with permission from the playwright to adapt the script and flip the gender of the lead character from male to female due to the lack of substantial roles for women in the entertainment industry. I produced it in on a shoestring budget during the pandemic, following all safety protocols to avoid covid. I am so excited to see where it takes us. I am absolutely honored to have our Arizona premiere at the 30th anniversary of the Arizona International Film Festival!
Category: Comedy.
More in Comedy
Liang-Chun Lin
United States, 2021, 9 min.

Amy, a shameless penny pincher, moves into a haunted house for the great rent. She finds herself surrounded by ghosts whose personalities are suspiciously... more ›

Vanessa Valliere
United States, 2021, 11 min.

Gut Feelings is the story of two misfits who meet in the belly of a beast... more ›