From the Shadows of Desert Rocks
Edgardo Luis Gonzalez
N/A
United States, 2021, 19 min.
In English with English subtitles.
Includes nudity and adult language.
While editing atomic footage for the Civil Defense, G-man Jakob Werner discovers a strange anomaly. Realizing his career- and potentially his sanity- is on the line, he heads back to the testing site. Once there, he makes a shocking discovery. Someone... or something... has been born in the mushroom cloud of atomic bombs.
Director's Statement
I was inspired by 1950s B-movies and atomic history of the Southwest to create From the Shadows of Desert Rocks. Jakob inadvertently finds himself embroiled in a search for answers to a question that is bigger than himself- the dawn of the atomic age; is it a time that should be embraced, feared, or something more? Rusted air bases, windswept highways, ruins of ancient civilizations - tread lightly in the shadows of desert rocks.
Category: Science Fiction.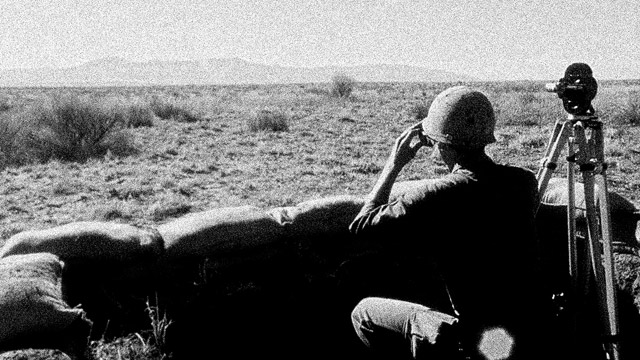 More in Science Fiction
Aitor Almuedo
Spain, 2020, 17 min.

A boy is thrown into a trash container from the future. In his frantic search for the exit, he runs into a mysterious man, who will make him doubt the origin... more ›

Alex von Hofmann
Australia, 2021, 18 min.

In a world decimated by nuclear war, where barbaric clans and genetically modified dinosaurs roam the Australian countryside, a young girl, Evie (Melody Rom),... more ›