Rodents of Unusual Size
The AIFF is pleased to have a trio of extremely talented filmmakers, Quinn Costello, Chris Metzler & Jeff Springer, who set out for the Louisiana bayou to bring us the intimate tale of the undaunted folks who steadfastly fight to save the precious land and traditions of their ancestors.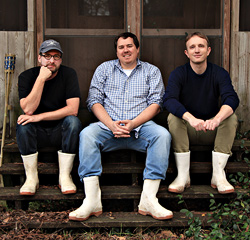 AIFF – While shooting on water, in pouring rain and the additional forces of nature, how did you navigate those difficulties while capturing the beauty of the landscape and the people trying to protect it?
Quinn, Jeff, Chris – Our characters all work their schedules around the cycle of the seasons and our shoot was no different. We were constantly changing our plans due to extreme weather. At one point when we were filming a country Mardi Gras it actually snowed and we ended up rolling around in the mud and sleet as part of a bizarre hazing ritual. At first we would get upset when the weather made it difficult to shoot but eventually we learned to embrace the unpredictability.
AIFF – Any close calls with a nutria during production? They look daunting, yet people keep them as pets, it's an interesting dynamic.
Quinn, Jeff, Chris – No close calls per se but we kept hearing ominous warnings of nutria 'itch' which is a bacterial infection that is notoriously uncomfortable. Jeff, the co-director and DP, did form a tight bond with Nooty, our 'stunt' nutria and it was difficult for him to say goodbye after we wrapped production. Luckily, she'll catch up with us in Dallas where she'll walk the red carpet at the EarthX film festival.
AIFF – You had great interaction with the folks on Delacroix Island along with everyone involved in this project; they embrace everything nature can throw at them. What did you experience hanging out with them when the cameras stopped rolling; there is a very strong spiritual aspect to the people who call the bayou home.
Quinn, Jeff, Chris – Thomas, Joan and the other folks we got to know in that area are like family to us now. Part of what is so intoxicating about hanging out down there is the fact that Thomas and his family are so at peace with the unpredictability of life and the inevitability of death. It's part of what makes them such joyful people. That attitude is exactly the same off camera as on.
AIFF – It's very apparent that everyone from the trapper to the fur traders have a great respect for the nutria, was that something that surprised you making the film?
Quinn, Jeff, Chris – Absolutely! We were amazed that some of the most rabid hunters were also huge animal lovers and most of them had raised nutria as pets at some point in their life. Some folks respect them as a noble foe that thrives despite the odds. Maybe they see themselves in that resilience? Others just think they're really cute. Thomas likes them because they will "hold a grudge" for you.
AIFF – As a result of your film, do you hope that people will embrace the struggle of folks like Thomas Gonzales and understand the true scope of destruction the nutria cause? How can people around the country lend a hand?
Quinn, Jeff, Chris – I think anyone who travels to south Louisiana will understand that's it's an incredibly unique place that is worth preserving for its culture and physical beauty. Some rehabilitation efforts (including the nutria control program) are showing some success but the work of rehabilitating the coastal wetlands is huge. One organization, that is doing great work and worth supporting, is the Barateria Terebonne National Estuary Project or BTNEP.
For those looking for a direct connection to the nutria you can support the folks at Righteous Fur by buying nutria jewelry and handbags to freak out your friends on Christmas. Dog lovers should check out Marsh Dog who is making dog biscuits out of nutria.