The DMZ
An interview with director Inchun Oh
Multi-talented, writer, director and cinematographer Inchun Oh traveled from South Korea to join AIFF and present his compelling drama, The DMZ. We are additionally very pleased to have him talk about his film in person at one of our many insightful film panel discussions.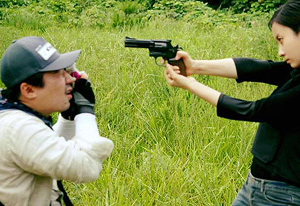 AIFF – What attracted you to tell this story, how did it evolve?
Inchun Oh – I've had this story for a long time. It is a story in which a strong female character who is in a confined space can overcome by her own free will as if Phone booth meets The Hurt Locker. And with the DMZ as the only place in the world, I wanted to tell the story as a full, feature, suspense film.
AIFF – What was it like shooting in such a confined space?
Inchun Oh – Filming in a confined space has allowed us to focus on more ideas and characters.
AIFF – How was the writing process working with co-writer Ji-young Park?
Inchun Oh – After writing the script, I worked with the co-writer and executive producer Ji-young Park, on the delicate feelings and flow of the story of the female cop characters. It was a very pleasant experience!
AIFF – As director and cinematographer on the film, was it a difficult production?
Inchun Oh – As director and cinematographer on the film, it was a very exciting experience. As I worked as a film director and cinematographer, the actual distance between me and actor was very short. So it was very convenient to communicate between the actor and myself. And it was very pleasant because I could realize the camera movement, the experimental angles, and the very tough handheld shots moving immediately with the actors. .
AIFF – What was it like working with Joo Min-ha, her performance was very strong?
Inchun Oh – I worked with Joo Min-ha on a horror feature film Mourning Grave (2014), and the found footage horror feature film Nightscape (2017). She is very passionate and makes deep character research. And the acting that puts emotions out of sight is also excellent and she can expresses her inner acting ability well. It is also my Persona.
AIFF – How do you feel about coming to Tucson? We are excited to have you here.
Inchun Oh – Me and my team will visit the beautiful city of Tucson for the first time through the Arizona International Film Festival! It is a great pleasure and honor! I would like to meet many people and talk about film!