The Divide
Talented screenwriter and journalist Jana Brown shares her thoughts on writing the heartfelt Western, The Divide, and navigating her first feature script with actor/director Perry King.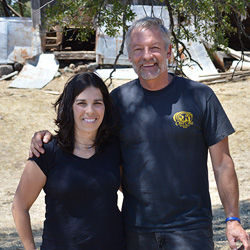 AIFF – Can you talk about what drew you to write a Western set in the 1970's California, is this a personal story?
Jana – I met Perry King in 2011, when I was writing an article about him for the alumni magazine of his high school, of which I was the editor. The first time we talked, he mentioned that he always dreamed of filming a Western on his ranch in Northern California.
I never imagined I would help make that happen. It's funny now, but we spent a year working on a comedy, before switching gears. It gave me time to learn about screenwriting and for us to confirm the instinct that we would make good partners on a film project. The idea of a Western remained with him during that year. I had not watched many Westerns, but we discussed the idea of a father/daughter story.
One day, while I was on a two-hour drive by myself without my two small children (who are now 15 and 13), an idea came to me about setting a drama about a rancher with dementia on Perry's ranch. I have two family members with Alzheimer's and dementia, so I was familiar with the signs and symptoms.
I thought about what might happen when a man who was the picture of strength and self-sufficiency suddenly began to lose his ability to function independently. And what if the one thing he wanted to forget was the one memory that remained intact? It was the merging of these ideas that gave birth to The Divide. We decided to set it in 1976 for a couple of reasons – one to be more consistent with the old style of Westerns and two to have our story of drought (literally and figuratively) coincide with the worst drought in California history.
Before writing The Divide, I had only seen a few pictures of the ranch, but Perry described it to me in great detail. The story was written to fit the setting. When I finally saw it for the first time, in the summer of 2013, I made a few changes to the script based on what I saw in terms of geography, but the old ranch house and the barn were exactly what I had pictured. They were suspended in time, which made for an ideal location for our story.

AIFF – What was the genesis of the project working with Perry and cinematographer Russ Rayburn?
Jana – As I mentioned, I had written a profile of Perry for his high school alumni magazine. I knew who he was from some of his movies and TV work, so I planned to write a one-page spotlight on him. We developed a quick rapport in our few phone conversations to the point where I thought he seemed like someone I could work with; it's hard to explain why. It turns out he was thinking the same thing.
He called me and told me he loved the draft I sent to him. I told him if he ever needed someone to write about him again, to give me a call. He said, "You're right. We should work together." I gave him my number and he called me at home the next day and asked if I wanted to write a screenplay with him. I have been primarily a journalist for many years and had never even read a screenplay.
That appealed to him, since I was coming into the process without any preconceived notions of how screenwriting was done. I was excited about it, but also a little terrified – I was NOT a screenwriter. I was primarily a magazine writer and had not written anything much over 4,000 words. He sent me screenplays to read and I bought Final Draft to practice the foreign format of screenwriting.
We spent hours on the phone, across the country (me in New Hampshire and him in California), talking about screenwriting and developing a comedy he had conceived. In the process, we developed a close friendship and a working partnership. Meanwhile, the idea of the dramatic Western kept returning to the forefront. Eventually, we decided to go in that direction. Still, it all seemed like just a process for me for quite a while – I think the idea that we were actually going to make a film still seemed like a pipe dream for both of us.
Russ is an experienced documentary filmmaker, who has done extensive work in television. He and Perry had worked together on some TV projects. He had never been a feature film DP, but it was something he always wanted to do. He came on board about three years after Perry and I began working together and became our third partner – the one with the cinematic vision to complement our other plans for the story. Both Perry and Russ have become close friends of mine. I am proud of both of them for the work they have done on The Divide.
Russ's cinematography is striking – he put countless hours of thought into it, and Perry did a fantastic job juggling his roles as lead actor and first-time director. His portrayal of Sam still moves me to tears. He also had to jumpstart the old tractor more than once, change a flat tire on Sam's truck, and make sure Barney, the ranch's resident burro, was out of the view of every shot in the barnyard.
Perry has been such an enthusiastic supporter for me – a muse and perhaps the first person who truly believed that I was capable of more as a writer than I ever imagined. He would never want to take credit for that, but it's true.

AIFF – Can you talk about your writing process, do you write every day, and how long did it take to get to that first draft?
Jana – I do write just about every day. Writing is like exercise – if you don't do it consistently, you will get out of shape. For The Divide, once we started talking in earnest about the story of Sam Kincaid, the aging rancher with the failing memory, and the cast of characters who orbit his world, we spent about five months developing the treatment.
Just before Christmas 2012, Perry declared that he thought I was ready to write the first draft of the script. I think he thought the ball would be in my court for a while, probably a few months.
Three weeks later, I came back to him with a 127-page first draft. It then took a few years to hone it to exactly what we ended up shooting! I did recently find a copy of my first draft, covered in notes from our many conversations. But when I really looked, about 80% of it was the same in the final version, including the dialogue for the most pivotal scenes. First time's a charm, I guess.

AIFF – How do you go about writing dialogue, was this a difficult aspect of the screenplay, did it change during production?
Jana – I was worried about writing dialogue when I first started learning about the craft of screenwriting. What I found once I actually was writing The Divide is that the characters know what they want to say.
I was more of a vehicle for them to share their words. That may sound odd, but the dialogue more or less wrote itself, once I knew where the story was going. The characters truly pulled me along through the writing process. I often was surprised by what they had to say. Most of the dialogue remained the same from the script, but the actors sometimes would suggest removing or modifying a line to make it feel more right within the context of the scene.
I also rewrote a couple of scenes on the fly for one reason or another. We had one scene with Luke Colombero, who plays Sam's grandson, C.J. that just didn't work. So, that night, I rewrote it. Bryan Kaplan was upstairs making a phone call. When he came back down, I showed him what I had written.
He said, "You did all that while I was on the phone?" I would say I was in the proverbial zone, since we were so immersed in the story on the set. I primarily changed the setting of the scene, with similar dialogue, so it would make more sense. I love how it turned out, but mostly because of the wonderful work of the actors – Luke and Bryan.

AIFF – Were you on set during filming? Any interesting stories you could share with us?
Jana – I was on set during filming. The lead actors, Bryan Kaplan, Sara Arrington, and I stayed together for six weeks at Perry's house on the ranch. We became great friends. I served as script supervisor and did continuity, which could be stressful at times – I had to pay attention to the smallest details, like whether Sam was holding his gloves with the fingers toward his body or away or if someone had put the cover back on the sugar bowl.
The actors were so good at continuity that I rarely had to say anything. I was continuously in awe of all the hard work that was going into production each day, whether it was the superbly professional preparation of the actors or the hustle and professionalism of the lighting team. I was standing beside Perry and Russ for every single shot of the film.
I learned a lot about filmmaking, including which scenes are easy to film and which look easy on paper but are actually more challenging to film, for whatever reason.
While we were filming a scene in the old barn, one of the few that involved a stunt, the camera was rolling and I heard a hissing sound behind me. It took a minute for my brain to register that it was the sound of a rattlesnake – actually three of them. Everyone scattered, a humane removal team was called to relocate the snakes to a safer place, and we continued on with business as usual.
The water hole location was our least favorite – it was hot and dusty and removed from the main set. I think everyone was happy on the day we shot our last scene there.
Bryan Kaplan is hilarious. Between takes of serious scenes (The Divide is a drama, after all), he would entertain everyone with jokes and ad-libbed monologues, and then go right back into his dramatic work, without missing a beat.
Perry grew a long beard and wild hair to play Sam. He was amazing. But we were all happy when he cut his beard and his hair. He began to look more like himself!

AIFF – Any advice for struggling writers?
Before I met Perry and wrote The Divide, I had never even considered writing a screenplay. But I always wanted to write a novel. What I learned from working with Perry is the art of perseverance. We both decided we wanted to make a film, and we never let up. We talked, e-mailed, and worked constantly on developing our idea. I had a full-time job, a husband, and two small boys. We lived 3,000 miles apart, but we found time in the evenings to fit in the work.
Before The Divide, I had started many novels and other long-form pieces, but once my initial idea fizzled a little, I would abandon the project and start something new. Stories and characters take time to develop. If you take the time to truly get to know your story and let it lead you to the end, you will be rewarded. Since writing The Divide, I have written two novels (unpublished at the moment) and two different versions of a screenplay idea that remains in development with another partner in L.A. I never would have been able to do that without the lessons I learned from the work Perry and I have done together.