Elvis Walks Home
AIFF welcomes filmmaker Fatmir Koçi to Tucson. Fatmir traveled all the way from Albania to screen his excellent film Elvis Walks Home. This insightful and epic cinematic journey crosses into several Balkan war zones occupied by armed children and a lost Elvis impersonator.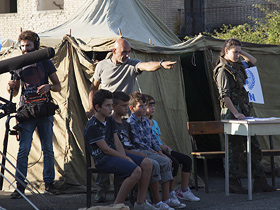 AIFF – This must have been a very difficult shoot with multiple locations and a large cast, how did you prepare, and what were some challenges you experienced during production?
Fatmir – Indeed, from the very start Elvis Walks Home posed a huge 'handicap' to production levels, maybe I think I warned everyone that Elvis could be a 'failure'. We had to play the hardest game. We had to decide either to travel 3-4 hrs everyday to two main locations that were distant, over 150 km. The risk was huge, we might lose many hours of shooting during the 4 weeks of shooting, but we had to gain the cinematic narration to the level of the story. Finally I took the risk to get to the traveling decision. If not, we had no chance to journey with Elvis and his 'violent fellow kids' to the danger of wars in the Balkans. We had 6 weeks of preps (pre-production) in total. We have two weeks of dialogue reading with kids and Elvis. Also I had to do adaptations of the script to create everyone a depicted character. The cast was made of 13 kids and Elvis who were in a two level situation; mostly it has been a clash between the kid's adventure of making a movie, and rarely taking it seriously, and Dritan Kastrati who played Elvis, who wanted to work nothing but professionally. The kids wanted to play; they couldn't stop their play during the shoot. They were thinking that this was a certain game, impossible to make them understand that this is a very serious thing to undergo. Also it has been hard to control the kids from not playing with guns. We had police with us, but they couldn't control the situation...
And one day while shooting a scene in the mountains, one of the kids shot his gun very close to Elvis and his eyes got hurt... Dritan Kastrati was scared and we stopped shooting. He went to hospital and next day we discovered that he was fine... That was a moment that I thought I could lose the film.
Also there were a lot of snakes in the mountains...and one crew member got bitten but was saved after a few hours of being in the hospital.
AIFF – How did you find Dritan Kastrati to play Mickey, how did he prepare for the role? Also could you talk about working with the young actors in the film?
Fatmir – I had Dritan playing in Pit Stop Mafia, a dual character that has to become a 'friend' to the Mafia man who killed his father. And that's because he wanted to pay for his studies. I mention Pit Stop Mafia because in this dark comedy I found out the ability of this young actor to go to any depth of the acting process on a complex human character. This helped me to trust his Elvis. Of course, Dritan had no idea how to play guitar or sing, but I decided with the writer, Jonathan Preece that our Elvis is not going to sing or play... I believe that was a good choice. Dritan liked it as it made us emphasize more dramatic moments in the story. He helped me indeed with the children rehearsals, we all could go through the script with such a tenacity that I was very confident that we would build up a powerful character that would be able to carry on the journey with that dramatic character. I suppose the viewer knows that Elvis is a singer... and maybe they expect him to play and sing. But we knew that we had to show the story of this lost man, and not the story of someone famous we know... that he is already dead...
The character of Uka was a beautiful and unexpected surprise in the preps. I was rewriting all the children roles one by one, and his character played by Armin Vargu (11) just surprised me. I discovered that his character would be a great dramatic momentum in the story. So by becoming one of children's main characters, Uka balances the human stance of the kids who mostly appear to be wild and not loving each other. Uka is smart, sweet and daring to sacrifice his life for Mickey (Elvis), and it builds a beautiful strong bond between them.
Klaus Laci (14) who played the main kid boss, Leli, was a tough kid to work with but also a wonderful human being who helped me to overcome a lot of my doubts during shooting.
Samuel Vargu (13) who plays Samurai, with his tremendous will and passion for movies, soon got into two other films; an American production titled Lazarat, directed by William Kaufman, and How To Sell A War, a British/Georgian production.
AIFF – How did you go about designing the look for Elvis, did you have something specific in mind, and did your art department assist in the process?
Fatmir – Yes, we selected the two most known costumes of Elvis and his famous coat, but we came to the conclusion that we had to use his white famous costume. The costume designer, Gerta Oparaku designed them and found a good tailor to make them. We had just two pieces; we had no money to make more.
AIFF – What was the process like working with Jonathan Preece's screenplay, who also composed the music for the film? Did you need to make adjustments during production?
Fatmir – Jonathan and I decided to do the re-writing before we went into preps and during the preps. Because we wanted the film to be a dramatic story, and not a movie that could be funnier or have irony along with the comedy touch the original script had. So we re-wrote about 1/3 of the mid-script story and it went solid with the entire story. We shot the very end scene of the film when Elvis walks along some barbwire fences but we didn't want the film end like that. It meant almost nothing, compared to Mickey burying Elvis' suit.
Indeed, I loved the themes Jonathan composed along way with Karl Heortweard from Amsterdam, who composed a lot of music as well. But the themes Jonathan made from the very start of the shoot helped me and Karl to know the film's music path. I was clear in my request; no original music of Elvis Presley to be used in the film.
AIFF – What influenced the style of cinematography in the film? The director of photography did wonderful work.
Fatmir – Marek Wesolovski did a great job indeed. He came with a dramatic and original feeling to this story, and I only directed his cinematography with one direction; are we going to use at all portraits or close-ups of only one character at once? No, instead, we wanted to show the story through many characters in the shot at one time. That created of course, various difficulties in the shooting. But we wanted to go this way. It made the look of the film, I suppose unique; and above all, a story telling a powerful journey. Mostly the cinematographer and I wanted to tell the story in two ways of combined cinematography; a flowing camera from the children's eyes, and a classic fixed camera. The two ways combined, we thought, could maintain a solid narration with a dramatic tone and a dynamic undercurrent.
AIFF – How is filmmaking evolving in Albania, especially for emerging talent, is there more opportunity now?
Fatmir – Pretty hard, indeed! Financing is just little money, stories need to be very well written and developed and structured to a high level of filmmaking, otherwise we have had no good movies. We have good actors though, and I am happy that Dritan Kastrati played his own Elvis.
Last, I believe that filmmaking in my country needs to be addressed to the art of filmmaking, more than to showing social news... or just reporting social dramas...