Rag Doll
We are excited to have extremely versatile director, Baily Kobe join us with his dramatic, hard-hitting feature presentation, Rag Doll.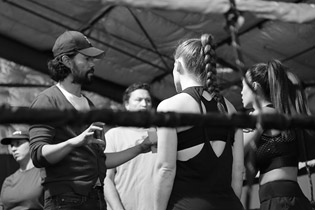 AIFF — Shannon Murray gave a very strong performance, both handling the physical demands as well as the emotion range of her character, how did you prepare?
Baily — Shannon already inhabited a lot of psychological real estate of this character because she herself wrestled in high school (yes boys too), and wrecked some egos along the way. The confidence that comes with a sports identity was the starting point for us as we examine what happens when you bring that type of success, and ultimately violence, outside of the gym. Shannon and I worked for months beforehand, walking through the complicated beats of the story to establish the range, and then the beats of the action sequences very carefully with fight choreographer Martin Wheeler (who often collaborates with Wesley Snipes).
AIFF — The film has a lot of serious themes such as domestic violence, prostitution, and psychological issues that support the story, how did that affect the way you directed the film?
Baily — As directors, we are charged with creating scenarios of interest with characters that hold a lifetime of conflict, pain, and experience before that moment that you film. Each actor and I spend considerable time talking about what brings them to these moments in screenwriter (and former police officer) Darren Longley's gritty script, and then the actor is charged with coming to set with their own creative take, based in their own life experience, on what that moment means to their character. Then I as director look to tell the story of the scene, and how it leads to the others, without judgement. I look to preserve the fragile psychology and serious issues as they unfold, because we all have some combination of issues we are dealing with - which, if you examine each character, you can see is a major theme within Rag Doll.
AIFF — Shooting fight scenes are always a challenge, can you talk about how you worked with cinematographer, Aymae Sulick?
Baily — Aymae and I had similar conversations as I do with the actors. Character beats and then we stepped into where the camera might be. My take on action is different than most - I see action scenes as a chance to delve into pure cinema - images, motion, sound in a scene that in my view is equally dramatic to any dialogue scene. And so, we worked very meticulously with the fight choreographer team, including Martin and Fight Coordinator Menamy Mitanes, to ensure all the movements are repeatable and safe.
AIFF — Was it difficult to get funding to shoot this project?
Baily — Enormously. Although we have a cast of well-established actors, like four-time Emmy nominated Dot Marie Jones (Glee), they are playing roles they are not normally associated with - like Stephanie Erb, comedic genius from Weeds and Ray Donavan - or versatile icon of our childhoods, Asian-American, Dante Basco, playing the male love interest… We began this project before the #MeToo movement, but staying honest with our characterization has rewarded us with narrative variation on a female-lead story, that people want to see more of, and as friend and Pulitzer Prize winning author Viet Nguyen coined a desire for "narrative plenitude".
AIFF — Lateefah Holder gave a really great performance. How did you cast her for the part of Sasha?
Baily — Lateefah Holder is a genius. And one of the many great finds we have in the film, including first-time feature actor Roxana Sanchez. Lateefah came to us via casting directors Kendra Clark (Mad Men) and Helen Geier (Dexter), and in her audition I clearly saw she understood that the dramatic scenes were meant to be as violent as the physical fight scenes, to underscore our theme that we walk around with these psychological scars that people don't necessarily see from the outside. The audition was key and then I saw her scene in Curb Your Enthusiasm where she goes toe-to-toe with Larry David. It was safe to assume that she was a formidable improviser!