Wheels
We are very excited to have outstanding Writer/Director Paul Starkman share his unique and intimate thoughts on, Wheels, a vivid portrait about a young man's musical dreams pit against the mean streets of Brooklyn, New York.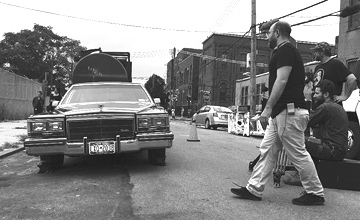 AIFF – What kept you passionate after 20 years to make this film?
Paul – I always have wanted to make movies. It's been my passion and dream since I was a kid. After graduate school I found myself working in documentary features which led to me working in reality tv. First working as a cameraman on MTV's The Real World, then directing competition shows. Throughout the years I wrote screenplays knowing that one day, I would make a leap into narrative features. I always knew when I felt ready and with the proper support and team in place I would make the leap as Max does in Wheels. The story of Wheels is universal, someone knowing where they want to be but not feeling equipped or having the opportunity to make their dream come true. A coming of age story. That passion has always been in me and telling this story of Max has always been relatable to my life.
AIFF – How did you find such a dynamic actor in Arnstar, who plays Max?
Paul – Arnstar came in on our last day of casting! Up until that point I wasn't finding the Max I had envisioned in my mind. Arnstar came in on a whim, upon recommendation by his friend who said "you should go for this part, this is your life" and I'm so thankful he did. When Zan Casting brought him in, my face lit up, I found Max! Not just by his look but by his demeanor. He was natural and just being himself. He had this energy of a young man on a mission to fulfill his own passion as a performer, dancer, actor, rapper but also the energy that anything is possible, a positivity within himself. There is something inside Max that keeps him moving forward while facing adversities along the way. This is the quality he brought to Max. He brought him to life, by putting himself into the character.
AIFF – How did you decide to tell the story on the streets of Brooklyn?
Paul – I grew up in Brooklyn in the 80s. I have a nostalgia for early hip hop and how New York used to be, before gentrification. Shooting on the streets of Brooklyn, certain streets, locations, Red Hook, Gowanus, Sunset Park, allowed me to bring that old feeling, to the movie even though the story takes place today. Most of the film is on the street, day exteriors. The corners, the dead ends, the brick, the subway, the overpass, was all written in and chosen to give a sense of old New York, where things aren't perfect or curated. There are many Brooklyn's within the borough and I chose to carve out one that would give you a sense of time and place of the 80's/90's even though it's a contemporary story. Making these choices and shooting in black and white would take you somewhere else and pay homage to the past without being there.
AIFF – Can you talk about how the music in the film represents Brooklyn and urban life?
Paul – The music in the movie is all music I love and listen to. Its 70's, 80's, 90's, classics and hip hop. When you go to a party, a DJ plays all types of music, feels the room and takes you places. I wanted the movie to have that feeling like a party does, depending on the mood of the scene just like a party or a mix tape. I also wanted it to be relatable, so you might know the track and sing along. Though the story takes place now a days, I wanted to put you back in various era's and allow the audience to feel a sense of nostalgia, and give a heartbeat to Brooklyn. Max's world is DJing and music. I wanted to make sure it was authentic, and felt like music that a DJ might play and people would love. I am also a big fan of Rocky. Mario Grigorov beautifully composed the score to compliment the tracks. We made a conscious effort to limit the drums in the score as the hip hop was full of beats. This way the hip hop would shine and the score would compliment according to the scene.
AIFF – why was is important to show the criminal world of Oscar, played brilliantly by Kareem Savinon.
Paul – Oscar, played by the talented, one of a kind, Kareem Savinon, represents the wrong road, bad choices, and the life that Max is trying to escape. I wanted to show how Oscar affects Max and can steer him in the wrong direction. Terry, Max's brother is caught between these worlds. and can't help himself, while Max lacks proper guidance and confidence. Oscar feeds on the brothers needs and puts the them in a compromising position testing their loyalty and family, obligation, while letting their true characters ultimately shine. I wanted Oscar to be the bad guy but also small time, and quirky, someone you might know, a little off, but small time as I wanted it to feel realistic for the world I was creating. Kareem was able to bring that. When I met Kareem, he took the words off the page and made Oscar his own. I met him in Washington Heights for coffee, and we talked about New York, and life growing up there, He brought the characters of his neighborhood with him and incorporated his world into Oscar. From the moment we met knew there was no one else who could play him.
Wheels was awarded Best Indie Feature at the 2019 Arizona International Film Festival.