Kite
AIFF is honored to have an emerging, young, and gifted animator, Hongwei Wan, from Chengdu, China, with his deeply moving story, Kite.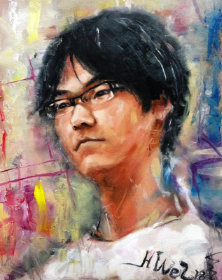 AIFF – What was your process for creating this story? Is it something that's personal to you?
Hongwei – The creative process is very simple but full of challenges. Because, that was a time when I was under great mental pressure. In March 2019, I had just graduated from university and was facing the situation of finding a job in animation, I wanted to be a story artist, because when I was a kid, I had a gift for creating stories and drawing, and I wanted to go to Pixar or Disney to pursue that opportunity, but I didn't have anything. I knew that Pixar or Disney or other professional animation teams would never give me a chance, So I felt like I didn't have any future, I felt pessimistic, anxious, and everyone thought I was a dreamer and wanted me to give up my dream, that's why my mental stress was very great. I lost sleep one night, when a huge white kite flew into my mind, the kite flew into the clouds. It was hard to tell whether it was a kite or a huge plane, because a kite could not fly into the clouds. Then a huge box came down and a child with a white body picked up the box, and found that there was a child exactly like him inside the box, but the adults could not see him, and he did not move, and did not know whether he was alive or dead. I know, I'm fantasizing again, because I'm always fantasizing about weird stories, but I can control it, control my imagination and write it down, But this time, I decided to stop being a dreamer and become a real animation artist, Taking this image as a challenge, I decided to do the animation myself that night, I created the whole story, added the airplane crash in the background, and told a warm little story.
AIFF – With the success of this film, has it opened up new opportunities for you?
Hongwei – Because the short film has not been released yet, not many people know about it. In addition to my own friends and film festival audience, almost no one knows the film, but I gained new friendships and the respect of my old friends. I have some new good friends that know me through my story, and when I told my new friends my new story "Victor", they were moved to tears, looking forward to working with me on the next project, and that, for me, gave me confidence and hope, I can confirm that "Victor" is a much more touching and warmer story,
AIFF – Can you talk about some of the challenges you had creating this film?
Hongwei – Actually, for me, there was no challenge in creating this little story, the real challenge was mental pressure and that people didn't understand my dream, it's a crazy thing, you know, I'm not in a plane crash, I'm not in an accident, I'm not even married, I don't have children, but I can imagine what it's like to lose a family member, what it's like for a five-year-old to understand this series of tragedies. However, I met some challenges in the process of production, such as lack of money, don't have a good computer, don't have a professional animation copy station, and I don't have professional animation software. That's why the production of this animation doesn't look as good as it could, and I think it could have been better if the Pixar team had made the animation, but I do the best I can with what I have.
AIFF – Was there a film or specific artist that inspired you to create animated films?
Hongwei – Yes, there are two great artists, Wassily Kandinsky (1886-1944), and Paul Klee (1879 -1940) of the art movement Der Blaue Reiter, in the early 20th century. The theories and works of these two artists have influenced me throughout my college years, and I formed my own painting style, which I applied in the animated short film Kite. So that it's about my art style of Kite. I also know that some of the good animations are done by a small number of people or even one person, which also encourages me to do it by myself. If others can do it, I can do it too.
AIFF – Are animated films becoming more popular in China, do you see the industry growing?
Hongwei – I think so. Animation is really developing in China and it's definitely becoming more and more popular, I can see a lot of animation being made in China, because animation is an important part of film and television art. The development of film is equal to the development of animation; it is the same in any country.