My London Lullaby
AIFF is honored to have amazing writer/director/musician/ and indie rock star, Hugo Santa Cruz, share his insight on, My London Lullaby, a personal odyssey delving into the aftermath of Brexit.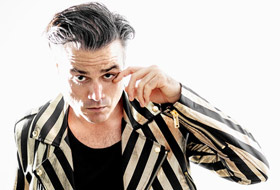 AIFF – What was the process of developing, My London Lullaby, was it something that had been a long time in creating?
Hugo – Actually no, we had a general election in the UK in mid-December 2019 which the bad guys won by a landslide. This certified that Brexit was going to be a reality and to put it in Morrissey's words "I spent the day in bed" thinking of how awful it would be that young European kids would now not be able to come to London and chase their big city dreams like I had done 20 years prior.
My friend Shirley Both is a German actress who had just graduated from a London University and I thought: "why don't I write something for her?" So I went away for Christmas and came up with something that looked like a Ken Loach film. Then, towards the end of January, I heard Ken Loach was going to be in a soup kitchen event at the Amnesty International HQ in east London so I went there with a printed 1st draft to try to convince him to read it. He was mega sweet but he was adamant he was busy with other projects. So I went home thinking: "why don't I shoot this myself?". By the time lockdown came two months later I was already on a 5th draft and moving things around for a summer shoot.
We shot a 12th draft. 7 months is pretty decent (I've got 3 other scripts ready to shoot and some of them took 3 years to get to a 7th draft)
My London Lullaby was shot in 15 days between August and November 2020.
AIFF – How do you convince such a talented cast and crew to work on a no budget film?
Hugo – Well, I wrote the lead part for Shirley Both, so that's one less actor to worry about. Some of the other ones I knew from my acting class (I'm one of those directors...), some from a previous short film I had done, some from friend's short films, and some I spotted on Instagram: they read the script, we met, I cast them.
We then had quite a socialist way of going about things. Everyone was paid £100 per day on set, except for me... I was doing the paying and because I don't like asking people to work for free, I had to do the sound recording, editing, catering, running, dish washing, driving, costume + production design, music...
Then I came up with all these fake names because I really wanted a cool opening sequence but didn't want my name plastered all over the flippin' thing. That's how you make a no-budget work.
Then as per the songs, which are the soul of the movie really, we licensed them for a decent amount. One of the bands had a publisher and the other didn't but I replicated the contract for the one that didn't. They donated the money to a London charity called "Girls Rock London". Check them out!
I asked everyone to give me a bit of time to pay them. I work as a freelance language interpreter, and with a bit of mettle and frugality I managed to pay everyone about 6 months after the shoot wrapped.
We also split percentages. So Lucas (DP), Shirley, Katharina, and my two co-producers/best friends/sisters of mercy got a chunk of it. I kept half to pay for the next film.
AIFF – Did London prove a welcoming space to shoot? You must have had some challenging days on set.
Hugo – Well... The kernel for the modus operandi when it came to shooting the film without a crew and permits was a little short film I did with the DP (Lucas Wilson) on top of a London double-decker bus late in 2019. It's called "Suckadick" and you can watch it here: antikino.co.uk. We shot it without permits on a Monday night on three consecutive 5 mile trips from Peckham in south London to Shoreditch in east London.
Since we pulled it off, I thought, why don't we shoot 15 short films and make a feature?
So, in the same vein, we went to Paddington Station and shot there without a permit; then Heathrow airport, then the Tower of London, Camden High Street, the London Underground, my co-producer Cecilia Limonta's office, etc. The crew was me wearing a suit (very important if you want to be ignored/respected!), Lucas with a Sony 4K and the MU artist. Most scenes had Shirley + one or two day players. We looked like a dysfunctional family, definitely not a film crew.
As for challenging days on set. Aside from the first one, when we shot the very first thing you see in the movie and the subsequent panic and stress that entails realizing that you're actually making a film, things went rather smoothly. No mega long days and no arguing. If something didn't work, we came up with something else. Stuck to the script pretty religiously then in the editing I got rid of stuff that didn't work.
We did have days when we thought we weren't going to get the shots, specifically the audition scenes at the Etcetera Theatre in Camden, which we shot in one 8-hour day with 1 hour for lunch. The trick there was to ditch the shot list, find a good frame and let the actors do their thing. Who would've thought, right?
AIFF – There are poignant messages throughout the film, especially on Helena's shirts, was that something you thought of during the writing process.
Hugo – Yes, the film is peppered to the brim with semiotics but all of that I came up with during pre-production both to add depth and to have a laugh, but once the script was in a solid 10th/11th draft. Acting more as a director than a writer.
In the case of Helena's outfit I wanted it to be iconic and super hero like; Helena the "Super Migrant".
There's a fashion designer here in east London called Chema Diaz, he's famous for his "J'adore Hardcore" t-shirts. One of his lesser known tees says "FUCK ME I'M AN IMMIGRANT", which I thought was genius. So I asked him for permission to use it and he was fine with it but then during pre-production I felt we needed to tone it down a little, so I asked my friend and co-producer Asdrubal Marichal to think up something and he came up with the iconic t-shirt.
We've been giving them out at Q+A's during festivals, people seem to like them!
AIFF – What's the idea behind anti-kino, can we call it a revolutionary reaction to big budget film making?
Hugo – 100% yes. anti kino – shoot film, stay broke is a punk rock call to arms against the egos, the wastage, the stifling of creativity and all the other bullshit that comes when people who shouldn't be making movies try to make movies. I want nothing to do with it (distributors come at me though!). Hopefully we can sell My London Lullaby, and repeat the process for the next one with double the money and so on and so forth.
Then it's also a rather obvious tip of the hat to Fassbinder's theatre company "anti theatre". Around the time when we were putting this together I was particularly obsessed with uncle Rainer so it seemed fitting, I guess now I'm stuck with it.