Courtroom
Changhee Han
South Korea, 2023, 22 min.
In Korean with English subtitles.
Includes violence.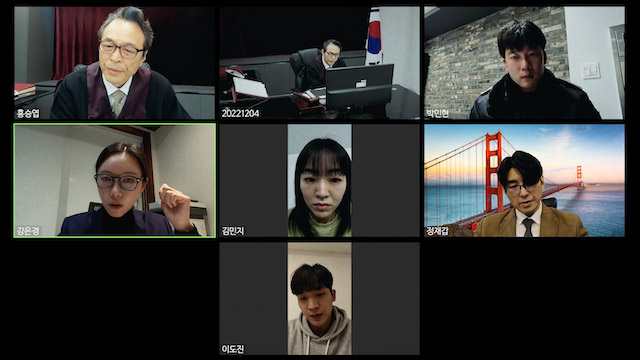 The trial of Lee Do Jin about his habitual dating abuse is held on-line. In the middle of the trial, prosecutor Kang noticed that something strange is happening.
Director's Statement
I wanted to connect the online courtroom and the offline world in one-take and reveal the intertwining relationships between people in the trial.
Category: Short.
More in Short
Neil West
United Kingdom, 2022, 10 min.

A mockumentary looking back at the catastrophic production of film director Bobby Brasco's final project. The infamous - HEY PINKY... more ›

Christy Lee Hughes
United States, 2022, 12 min.

A victim of a crime quickly becomes the suspect in this gender flipped adaptation of a satirical play... more ›

Michelle Sastraatmadja
United States, 2023, 14 min.

Having just lost her Indonesian mother, Marrianna, a biracial Indonesian woman, comes home for her Caucasian dad's birthday. Due to grief, regret, and her... more ›